Our Story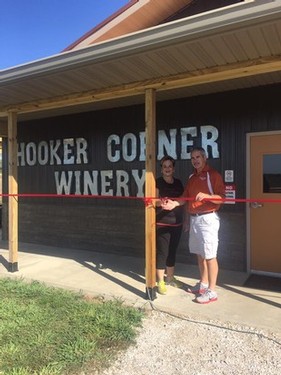 Hooker Corner, Indiana is a an extinct town that was located in Pine Township in Warren County, Indiana, west of the town of Pine Village. A few buildings, including a one room schoolhouse established by George Hooker, were once at the location. Today, Hooker Corner Cemetary is still located at the site.
Scott and Jae Ann Brier loved spending their free time visitng wineries, and decided to start making their own wine in 2015 to share with family and friends. In 2017, they began making plans to open a farm winery on their property near Hooker Corner, Indiana. Jae Ann's grandmother had attended Hooker School and social media posts would tag the couple at the location, so it only seemed fitting to name the winery after the extinct town also.
Hooker Corner Winery opened on September 4, 2017. In keeping with the double entendre that the name Hooker Corner established in some people's minds, the owners used the same concept to design the wine label and name the wines. The winery has a tasting room and outdoor patio with a wonderful countryside view. VIsitors can participate in a wine tasting, enjoy glasses or flights of wine, wine slushies, cheese flights, or other menu options indoors or while searching for wildlife on the patio.